Traffic Management Plans (TMP)
You have the traffic controllers and equipment needed but are unsure what plans are required or what type of permits. Or maybe your just not sure what signs and equipment is needed or where it should go. No problem, we have the solution.
Road Side Traffic Management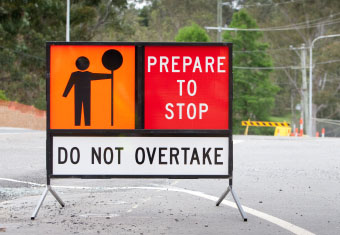 We are able to produce high quality Professional Traffic Plans, using the latest software technology that all governing bodies are familiar with.
We can undertake a site assessment by personally visting the site to see what is needed & identify potential hazards to work around. We work with you to achieve exactly what is needed to get your job done. We provide you with professional advice and contact the government traffic authorities involved to obtain all traffic permits required.
AllRoads Traffic plans are compliant as per the Road Management Act 2004 Code of Practise revised-2010 & the Australian Standards AS1742.3-2009.
Firstly we will forward a draft plan to you, so you are informed of all aspects of the traffic planning and you are welcome to comment or provide additional information before we submit your plan for approval. Once the permit is approved you can get on with your job knowing all your Traffic Management Planning has been taken care of.